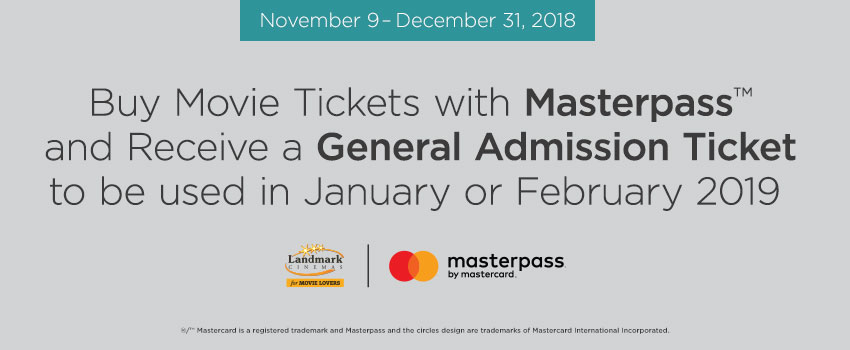 Masterpass™ Offer
Use Masterpass to Purchase Movie Tickets at landmarkcinemas.com
Get a free general admission ticket voucher
From November 9th to December 31st 2018 purchase your movie tickets at landmarkcinemas.com and checkout utilizing the pay with Masterpass button and receive a free general admission ticket Voucher.
Voucher valid January 1st 2019 to February 28th 2019.
Masterpass is a digital wallet that simplifies the checkout process with one secure account.
Unlike other digital payment products, Masterpass works across channels – online and in apps - on any device - desktop, tablet and mobile. Store your cards and shipping information so you can easily shop from one account. No more long checkout forms or scrambling for your wallet. Simply register on masterpass.com or through your bank and load your Mastercard® credit or debit card.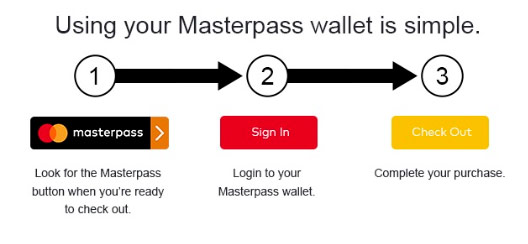 Terms and Conditions
Receive one (1) General Admission Ticket in the form of a Ticket Voucher when you make an online ticket transaction at landmarkcinemas.com November 9th – December 31st, using Masterpass at checkout. Ticket Voucher will be emailed to the email address provided between January 1st and January 4th, 2019. One (1) ticket voucher issued per online transaction. Ticket Voucher is valid for showtimes between January 1st – February 28th, 2019. Ticket Voucher must be redeemed on landmarkcinemas.com only. Valid at all Landmark Cinemas locations. Cannot be used for Automated Box Office (ABO) or ATOM app purchases. Not valid in conjunction with any other discount offer. This ticket voucher has no monetary value and cannot be redeemed for cash. No copies or facsimiles will be accepted. No substitutions, refunds, or exchanges are permitted. Lost or stolen ticket vouchers will not be replaced. Additional surcharges apply for Premium Movie Formats, Premium Experiences & Premium Locations. One ticket voucher per person, per visit. ®/™ Mastercard is a registered trademark and Masterpass and the circles design are trademarks of Mastercard International Incorporated.