Movie Lovers Care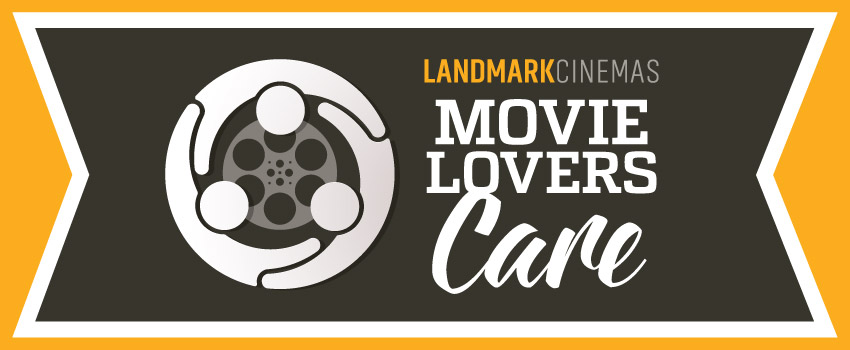 At Landmark Cinemas we are committed to supporting the communities we serve, and our Cast and Crew are proud to support Kids Help Phone.
We are committed to support the mental health and well-being of our movie lovers, as well as our Cast and Crew. We accomplish this through various programs and fundraising initiatives for Kids Help Phone, including March Movie Break and National Sponsor support of the Walk so Kids Can Talk.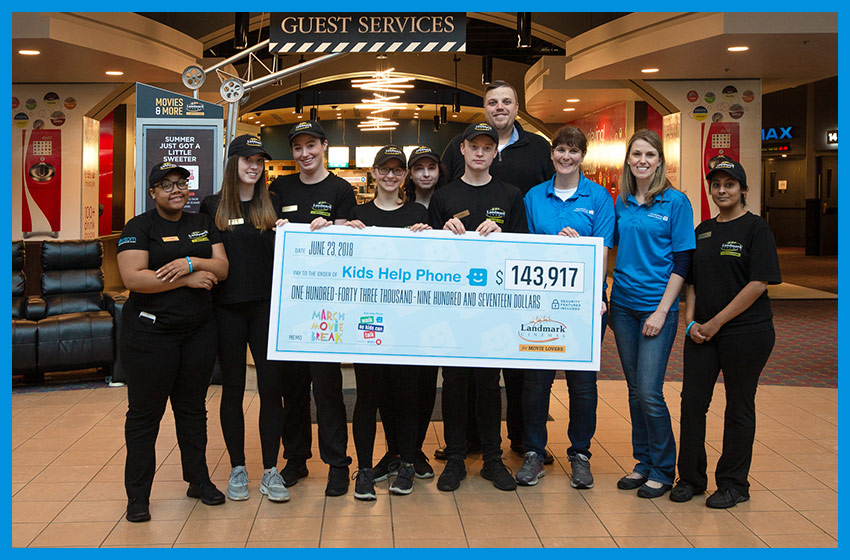 Some of the cast and crew at Landmark Cinemas 24 Whitby present a cheque to representatives of Kids Help Phone.
March Movie Break
This program is a huge hit with our movie lovers, which aligns with school Spring Break schedules. $1 from every March Movie Break ticket sold goes to Kids Help Phone.
*NOTE: Select markets run this program as April Movie Break*

Walk so Kids Can Talk
As a National Sponsor of the Walk so Kids Can Talk, our Cast and Crew not only get out and walk with thousands of other movie lovers across the country on the first Sunday in May, but they also execute in-theatre fundraising campaigns throughout April - 'Donate & Save' and Super Saturday.
Our 'Donate & Save' campaign, which runs every April, thanks each movie lover that donates $2+ in-theatre to Kids Help Phone with a big savings coupon book. Coupons are provided by Kids Help Phone corporate partners. This year's campaign runs April 12 - May 9, 2019.
Our Cast and Crew pull out all-the-stops for our Super Saturday event day, which occurs the 3rd Saturday in April. With a focus on supporting Kids Help Phone, this event day is full of fun, prizes, and giveaways. Visit your local Landmark Cinemas April 20th to experience Super Saturday this year!
Want to support or learn more about these programs? Click Here.
About Kids Help Phone
Kids Help Phone is more than a crisis line. Our counsellors hear from kids every day to talk about whatever's on their mind. Here are some of the things real kids have contacted us about over the last 27 years. Learn more about how you can support young people in need:
Kids Help Phone is Canada's only free, anonymous and bilingual professional counselling, information and referral service for young people. Kids can reach out to us any time of day for help with any concern.
In 2017, young people reached out to Kids Help Phone more than 194,000 times for counselling, information, and referrals.
As a national charity, it is thanks to generous supporters like Landmark Cinemas that we can provide this important, life-changing service to Canada's youth.
For more information, to make a donation, or to find support for a young person in need, visit kidshelpphone.ca.
About the Walk
The Walk so Kids Can Talk presented by BMO is a fun and inspirational 5K walk, where participants across Canada join together to support young peoples' emotional well-being by raising funds for Kids Help Phone. We invite you to participate in the 2018 Walk, to help youth feel more empowered to take on life's challenges, big and small.
The 2017 Walk welcomed more than 11,500 participants, who raised a record $3.7 million for Canada's youth!
This year's Walk takes place on Sunday, May 5, 2019 – join us!
Register today at walksokidscantalk.ca.